Hallandale Beach mayor accepted illegal checks from Russians, prosecutors say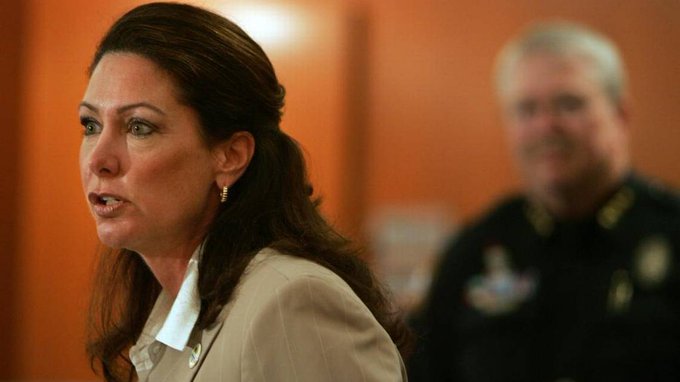 Miami Herald
by Martin Vassolo and Jay Weaver
January 26, 2018
On a summer day in 2012, the Hallandale Beach mayor met in her City Hall office with two men she thought were wealthy landowners from California as well as a close acquaintance, South Florida attorney and lobbyist Alan Koslow.
The landowners — FBI agents working undercover — would help finance Cooper's re-election run. In return, she would push their construction project through the city commission.
Koslow showed the mayor a proposed donation and asked if it was a "good number."
"No," Cooper said. "Add a zero."
"Three zeros. Is that fine?" Koslow responded. "Yes," she said.
Cooper, a Democrat, went on to win re-election in November 2012, after soliciting and receiving thousands of dollars that state prosecutors now say were illegal campaign contributions. Cooper, 57, who had served as mayor since 2005, was suspended by Gov. Rick Scott on Friday after she was charged with campaign finance violations, official misconduct and money laundering.
In a statement, Cooper promised to "vigorously fight these allegations in court."
A day after her high-profile arrest, details of Cooper's alleged corruption have emerged in an arrest affidavit filed by state prosecutors in Broward County Circuit Court. Many of her words and actions were documented with undercover audio and video recordings.
The document outlines a chapter of the FBI's 2012 probe of political corruption in South Florida, and how undercover agents posing as developers hired Koslow as their attorney to target Cooper. It also reveals a seemingly improbable tale of how $8,000 stuffed into a Dunkin' Donuts bag was converted into campaign checks written by several Russian donors.
Read the article HERE.
–##–
The FBI agents worked long and hard on this sting having first met with the lawyer Alan Koslow in 2012 and then carrying it through until 2017. During the sting, they also scooped up others such as Susan Mohr.  The undercover agents left no doubt in their sting that these were ill-gotten Russian funds and needed laundering.  Koslow and Mohr also knew that this was money laundering and corruption that would lead to serious charges if they participated but they chose to take part.
Koslow supposedly commented that he earned plenty as a lawyer but needed more to keep partying with his Hollywood buddies. Like many who run with the rich and famous, he had picked up a white powder habit.  Koslow went to rehab but he tested positive three times in one month and the judge ordered him to remain there.
The year 2016-2017 wasn't a good one for lawyers in the state of Florida. Four lawyers, including Koslow, from Miami-Dade and Broward counties were among the 21 statewide punished by the Florida Bar in December.  Between January and March 2017 an additional 35 had been disciplined by the state supreme court. Perhaps the Florida Bar should be in charge of disciplinary decisions on federal judges as well. Maybe we would see more judges who believe in their oath and the constitution rather than liberal interpretations.
Things of interest about Hallandale – its logo includes Progress, Innovation, and Opportunity. The entire area is a designed around and for high-end tourism, yachts, and gambling. It sits just north of Miami on the coast and accommodations include a "diplomat hotel."
In between Hallandale and Miami is "Little Haiti" which is a well-known neighborhood of Haitian exiles. The area is one of the most unique areas of Miami in food and activities but it is also one of the most crime-ridden neighborhoods in Miami.
Bill Clinton gave a speech in Miami at the 85th annual meeting of the U.S. Conference of Mayors in 2017 where he discussed tribalism and yes climate change.
–00–
There are several old adages that pop in mind as I consider this story but I see no reason to dredge them up.
Again with the Russian connection. People in high places should really think carefully about their own dirty laundry before they continue along the "nuthin burger" path of Russian/Trump connection. It seems some of them may have more to worry about.
I do wonder though if all those years of effort and investigation would have ended up in the Clinton "talk and die" lists had she become empress.
Hopefully, now that the State Bar and the State Supreme Court are disciplining lawyers so vigorously this kind of behavior at least abates for a time. If only other states were so diligent and willing to side with citizens rights not corruption. The sheer number that Florida disciplined is staggering and makes me wonder what that number would look like on a federal level.
–Uriel–