This probably needs to be chalked right up at the top with the "Liberal Attitude" currently turning the heads of millennials. What a wake up call to millennials – what you hear and trend about can be seriously dangerous to your health and wallet. Reality sucks when you are the ones being scammed or harmed.
ZeroHedge
April 28, 2017
What was set to be the opening weekend of trust-fund millennial debauchery in the Bahamas has turned into nothing short of Lord of the Flies. The Fyre Festival – organized by Ja Rule and some guy who's scammed millennials in the past was hyped by models and advertised as a boutique luxury music festival held in Exumas, Bahamas. All inclusive tickets ranging from $4,000 – $12,000 were supposed to include a chartered private flight from Miami, private luxury tents, yacht rides, and performances from Blink-182 and about two dozen other artists.
Not so much…
The "chartered flight from Miami" turned out to be severely delayed coach seats, and upon arrival shocked concert-goers were met with partially constructed USAID disaster relief tents: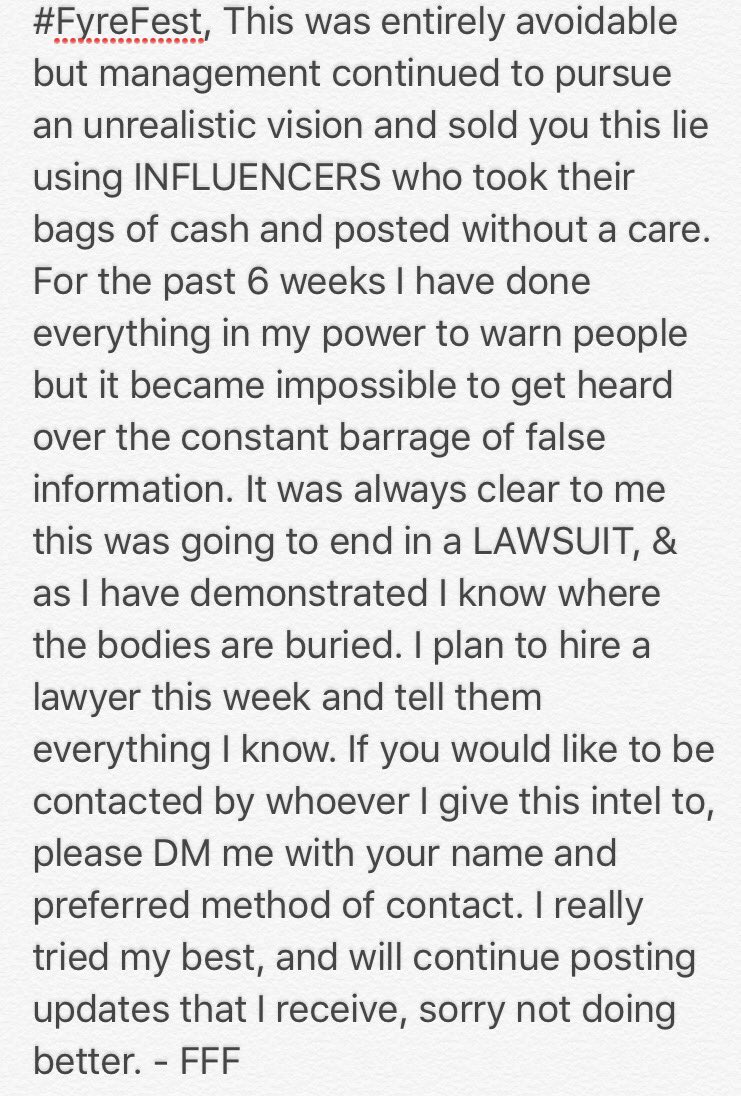 Twitter Post April 27, 2017: Early report is that many of the tents aren't assembled. Here's their tropical private island owned by Escobar! #FyreFestival
Read more on this story HERE.
–00–
OOPs. Woodstock was only glamorous after several years had passed, too. So these guys were not alone in being mislead over the years by one scam or another.
However, they were hit over the head with probably $20,000 each in losses and that may not count how much it will cost to get them out or treat them for medical ailments.
What millennials do have to understand is that this is not the only scam going on right now…those of you participating in anti-government chaos are also being scammed. But this scam will only be harmful directly to you if it is allowed to continue. At that point, NO one will be around to help save any of us. All because each of you bought into a worldwide scam so that only a privileged few in some far off place can tell us what to do, when to do it, take all of our money for their own pleasure, and leave us living basically exactly like you who are stuck in the Bahamas are experiencing right now.
I do not wish any of this on any of you there…however, Wake Up Millennials think about what crap you are being fed and before you also end up like those in the Bahamas. For once look beyond what is trending and popular. Consider where you hope to be in five, ten, or twenty years. Before you regurgitate the "live for today, tomorrow we die" crap…we who lived through the Woodstock era were fed the same turd sandwiches. Yet, like everything, inevitably tomorrow comes whether we planned for it or not. Some didn't make it but for the majority, we have. We have had to deal with every day as it unfolds either because we made decisions back then or because others made decisions that affected us.
On one hand is this "Banana Republic" of tent dwelling, no safe food or water, no toilets or personal items—-on the other hand —- is a comfortable living space with running water, air conditioning/heating, tasty food, trendy clothes and a family.
You are the only one that can decide your future….
Just a quick question…where are those thousands who attended Woodstock now?
–Uriel–