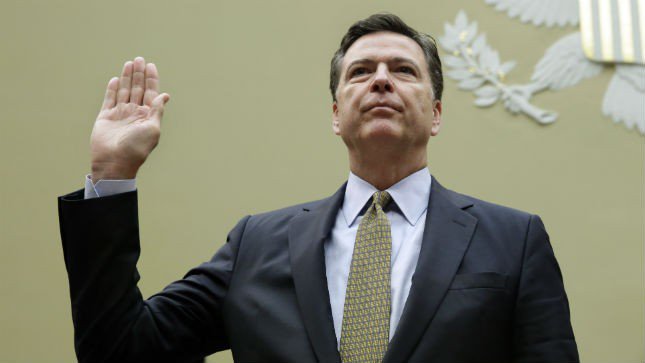 DOJ Complaint Filed Against FBI Director James Comey For Interfering In Presidential Election
Politicus
By Jason Easley
Oct 28th, 2016
(Liberal News Reporting)
A complaint has been filed against FBI Director James Comey with Department of Justice Office of Professional Responsibility that accuses him of interfering in a presidential election.
A complaint has been filed against FBI Director James Comey with Department of Justice Office of Professional Responsibility that accuses him of interfering in a presidential election.
The Democratic Coalition Against Trump released a statement announcing their complaint:
The Democratic Coalition Against Trump filed a complaint with the Department of Justice Office of Professional Responsibility on Friday against FBI Director James Comey for interfering in the Presidential election, following the FBI's decision to open up an investigation into Secretary Clinton's emails this close to Election Day. Federal employees are forbidden from participating in political activities under the Hatch Act.
"It is absolutely absurd that FBI Director Comey would support Donald Trump like this with only 11 days to go before the election," said Scott Dworkin, Senior Advisor to the Democratic Coalition Against Trump. "It is an obvious attack from a lifelong Republican who used to serve in the Bush White House, just to undermine her campaign. Comey needs to focus on stopping terrorists and protecting America, not investigating our soon to be President-Elect Hillary Clinton."
Outrage is growing over Comey's actions as details about the FBI investigation have revealed that it has nothing to do with Clinton, her emails, or her server.
Director Comey's motives for sending the letter 11 days before a presidential election have been questioned by both Republicans and Democrats.
If Comey's actions were politically motivated, he would be in violation of the Hatch Act.
What Republicans initially viewed as a new hope in the presidential election has quickly been exposed as a desperately political ploy.
The American people deserve a full explanation from Director Comey, because the letter that was released today raises more questions than answers.
–#–
Reality Check
Hatch Act
"The Hatch Act, a federal law passed in 1939, limits certain political activities of federal employees, as well as some state, D.C., and local government employees who work in connection with federally funded programs. The law's purposes are to ensure that federal programs are administered in a nonpartisan fashion, to protect federal employees from political coercion in the workplace, and to ensure that federal employees are advanced based on merit and not based on political affiliation." US Office of Special Council
Specifically, you seek clarification about what "in concert" means with respect to federal employees who are further restricted under the Hatch Act and ask several questions about said employees' use of social media to engage in political activity. Our guidance is below:
The Hatch Act, 5 U.S.C. §§ 7321-7326, governs the political activity of federal civilian executive branch employees in order to protect the federal workforce from partisan political influence. The Hatch Act prohibits employees from: using their official authority or influence for the purpose of affecting the result of an election; knowingly soliciting, accepting, or receiving political contributions from any person; being candidates for public office in partisan elections;and knowingly soliciting or discouraging the political activity of any individual with business before their employing office. 5 U.S.C. § 7323(a)(1)-(4). The Hatch Act also prohibits employees from engaging in political activity while on duty, in a government building, while wearing an official uniform or insignia, or using an official vehicle. 5 U.S.C. § 7324. Political activity is defined as activity directed toward the success or failure of a political party, candidate
for a partisan political office, or partisan political group. 5 C.F.R. § 734.101.
(There are many more opinions but this was the latest.)
–00–
I have no legal training but you seriously want to drag THIS into the cauldron? Idiots! Comey was in violation of this act in July when he bowed to political pressure from Lynch and stated IN HER PLACE that no indictment was forthcoming. DoJ employees including Loretta Lynch and State Department employees, including those fulfilling FOIA, and IRS employees who are targeting specific groups ARE MORE IN VIOLATION OF THE HATCH ACT than Comey who is NOW fulfilling his sworn statement to Congress to keep them apprised of further developments.
I would believe that ANY federal employee helping to fulfill this complaint by action, word, or otherwise would be MORE in violation of the HATCH Act than Comey.
Reid and any others involved in this group might be in violation, at least I would think so, since it also includes official capacity and payment by federal government for their congressional work. I would also speculate that IF THESE EMPLOYEES were to bring this to legal levels that THEY would be impeding an ongoing investigation.
GET OVER IT. Comey bowed to Lynch and Obama in July to not indict Clinton which IS a clear violation of the Hatch Act. Lynch should have already, but definitely now, be stopped along with other attorneys in DoJ not willing to follow the dictates of the law and fulfill their duty as top legal counsel. Anyone including Obama impeding FBI from their duty is I tend to believe suspect of the HATCH Act.
In fact, might Obama himself not be suspect of this act when during his prior interviews HE made statements directly castigating Trump and others, including our country in front of foreign audiences?  Might he not ALSO be in violation of the HATCH Act when using AirForce One in campaigning for Hillary Clinton or even speaking on her behalf?
–Uriel–